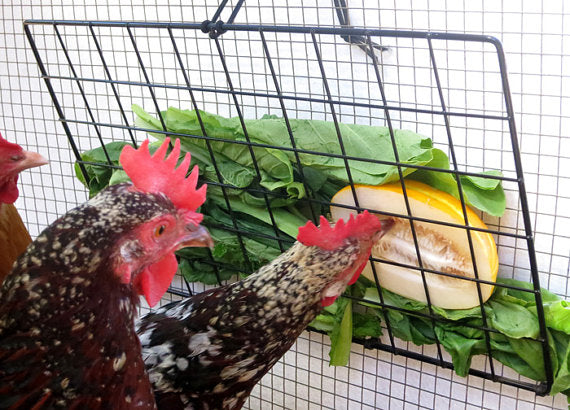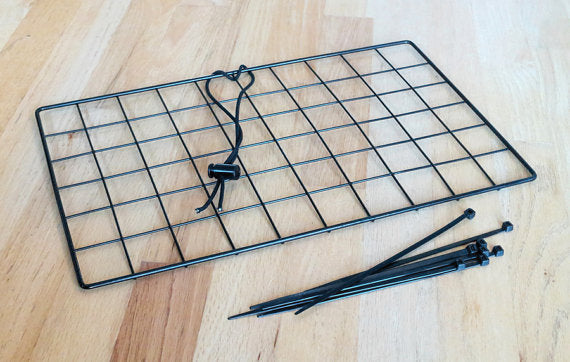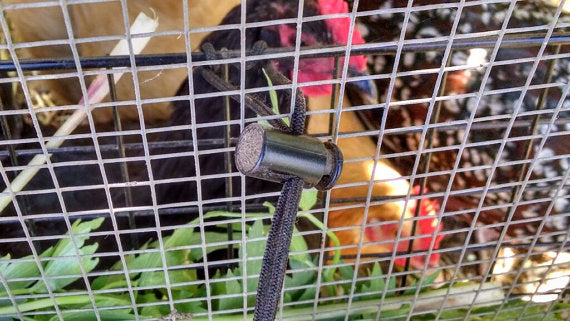 $ 29.00
Peck-It-Clean Veggie Feeder for Chickens, 10" x 16"
Chickens LOVE to nosh on leafy greens, fruit, and yard scraps. But if these foods aren't held in place, they get tossed around and trampled into the litter far too soon.

The Peck-It-Clean™ Veggie Feeder holds these treats tight. It provides the right amount of resistance so that your chickens can eat more naturally and more efficiently, staying active and keeping valuable nutrition for themselves and those delicious backyard eggs.

Ships FREE within the U.S.!

HOW IT WORKS:

Simply insert loose veggies or fruit from the top. The elastic shock cord provides tension to secure the food between the provided grid panel and the wire/fencing of your coop. Your chickens are free to peck away!

Unlike with a suet cage feeder, which requires two free hands to open and close, you can fill the wide Peck-It-Clean Veggie Feeder with one hand. And because it is wedge-shaped rather than a basket or cage, it keeps loose fruits and veggies held tight even as your chickens eat them down.


WHAT YOU GET:

Your Peck-It-Clean Veggie Feeder arrives ready to install and be put to use. The package includes the following:

» A 16"x10" black epoxy-coated steel grid panel. It's black so it blends into the background. Openings of roughly 1.5" square hold the veggies and greens, yet are large enough for your chickens to peck through.

» 8 black UV-resistant zip ties (four needed, four extra). These attach the bottom edge of the grid panel to the wire mesh/fencing of your coop or run.

» One black, UV-resistant shock cord, cut to length. This elastic cord attaches the top edge of the feeder to the wire mesh/fencing of the coop. Secure the cord ends together with the toggle and adjust for tension.

» One black toggle with stainless steel spring for outdoor use.

» Instruction sheet. Not that it's hard to figure out, but we include basic instructions and tips so that you can be sure you're doing it right. We also include information on how to return/exchange an item should it arrive damaged.


MOUNTS EASILY INSIDE YOUR CHICKEN COOP OR RUN

1. ATTACH. Fasten the bottom of the grid panel to the wire mesh/fencing on the side of your chicken coop or run. (See ANSWERS below for mounting to a solid wall.)

2. TIE AND TIGHTEN. Secure the top of the panel with the UV resistant cord and add tension with the toggle.

3. FILL.... and watch your chickens peck it clean!


ANSWERS TO COMMON QUESTIONS ABOUT THE PECK-IT-CLEAN VEGGIE FEEDER:


WHERE SHOULD I INSTALL IT AND HOW HIGH?

The best place for it is right inside the door to your chicken coop, or wherever you can easily reach in with a handful of veggies or garden scraps to fill the feeder. The exact height depends on the height of your chickens. For standard laying hens, having the bottom edge about 12" to 14" from the ground should be about right.


CAN I MOUNT IT ONTO A PLYWOOD WALL OR OTHER SOLID SURFACE?

Yes. If the wall is thin enough, you could drill some small holes to run the cable ties and shock cord through. Or you could attach it with a few poultry fencing staples (not included). Or you could use a few small one-hole or two-hole straps, like those used to secure cable and conduit to a wall (also not included).


HOW MUCH TENSION SHOULD THERE BE ON THE FEEDER?

When empty, the top edge of the feeder should be about 2-4" from the wall/wire of your coop. You don't want to tighten it all the way against the wall as this would make filling it quite tricky.


CAN I USE THE VEGGIE FEEDER WITH CHICKS AND PULLETS?

It's better to wait until your chickens are fully feathered to introduce the feeder into their coop. If you have chickens of varying heights, you can mount the feeder somewhat lower for the smaller birds.